To mark RELX SDG Inspiration Day 2021, we take a look at how RX events around the world are working to support the UN's Sustainable Development Goals so that our customers and communities can thrive, whoever and wherever they are.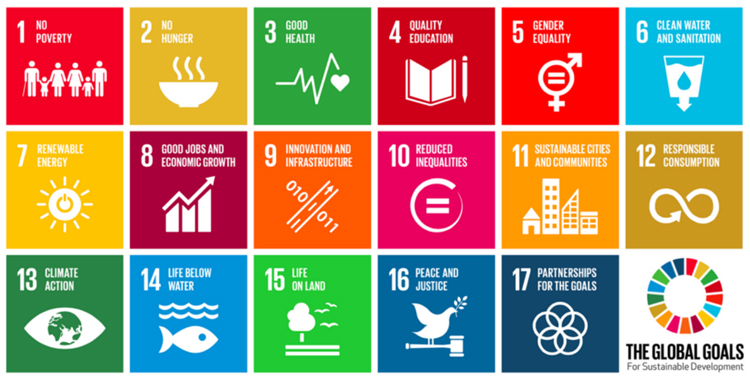 The Sustainable Development Goals (SDGs) set out the UN agenda for people, planet and prosperity through 2030. Adopted by 193 states at the United Nations in September 2015, the 17 goals and 169 targets aim to stimulate action in areas of critical importance to humanity and the environment. RELX is a dedicated signatory of the UN Global Compact which uses the SDGs to chart business participation in achieving these aims.
With over 400 events, in 22 countries across 43 industry sectors, RX has an important role to play in educating and inspiring our customers, communities and partners to build back better after COVID-19, and create a more equitable and sustainable world. In fact, our events have a long history of demonstrating leadership in support of the UN SDGs. We share some inspiring initiatives from a select few.
SDG 5: Gender Equality
In March 2020, Aircraft Interiors Expo (AIX) launched its 'Women Behind Aviation' campaign to highlight the role of women working across the aviation industry. Several of the industry's leading female professionals took part, including Geraldine Lundy, former passenger accessibility manager at Virgin Atlantic; Nicole Noack, head of the Independent Aircraft Modifier Alliance at Lufthansa Technik; and Melissa Raudebaugh, general manager at Delta Air Lines. These women, along with 10 others, shared their thoughts, advice and experiences of working in the aviation industry in a series of interviews which were available to download as a free e-book.
"AIX is renowned for being the home of conversations that influence the industry of tomorrow" explained Polly Magraw, event director. "By highlighting both the achievements and challenges that these women have experienced within their career, we hope to help spearhead further growth towards even greater diversity in the industry."
SDG 6: Clean Water and Sanitation
Just a Drop is the official charity of World Travel Market (WTM). It was launched at WTM in 1998 by Fiona Jeffrey OBE, former WTM Chairman, who was looking for a way to give back to the regions in which WTM operates. With the event's support, Just a Drop has since funded access to sustainable safe water solutions and sanitation facilities in 32 countries, improving the lives of over 1.8 million people.
2020 was an unprecedented year for the charity. In the face of COVID-19, Just a Drop became even more critical, working with local partners around the world to deliver safe water, latrines, handwashing stations, PPE and hygiene training to 328,000 people across Asia, Africa and Latin America. In June 2021, the charity won the Rathbones COVID-19 Response Award ‒ one of three top honours at this year's Charity Awards ‒ for its outstanding response to the COVID-19 Crisis. Congratulating Just A Drop on its achievement, Matt Nolan, chief executive of Civil Society Media said: "Just A Drop is an outstanding example of the ingenuity and commitment of charities in a time of crisis, and thoroughly deserves this award."
SDG 7: Affordable and Clean Energy
RX is proud to run a portfolio of future energy business events which are specifically designed to support the global sustainability agenda to combat climate change, in-line with the UN's Sustainable Development Goals and COP 21 agreements.
Among them is World Future Energy Summit, the world's leading event for future energy and sustainability, which hosted 34,000 attendees from 125 countries in 2020. Exhibition, technology showcase, investment incubator and business forum all rolled into one event, the summit convenes heads of government, business leaders, innovators and global thinkers to share ideas that are creating the blueprints for a sustainable future.
WFES returns to Abu Dhabi from 17-19 January 2022 to showcase pioneering technologies and ground-breaking thinking in energy, energy efficiency, water, solar, waste, smart cities, climate and environment. It will also host the Climate Innovations Exchange (CLIX), which connects global start-ups with investors, and the dedicated Sustainability Business Connect programme to help connect exhibitors with qualified buyers from the Middle East and Africa who are looking for technology and services relevant to their projects.
SDG 10: Reduced inequalities
MIPCOM, the global entertainment content market, is committed to promoting greater inclusion and diversity and equal pay for work of equal value across the entertainment industry.
Now in their fifth year, the MIPCOM Diversify TV Excellence Awards, are dedicated to championing and promoting diverse and inclusive content that can make an impact on wide audiences. The winning programmes are chosen by charitable organisations that campaign for equality and inclusion, including/such as GADIM, GLAAD, ILGA-Europe, Minority Rights, Race Equality Foundation, SCOPE, Show Racism the Red Card, and Sporting Equals.
The Diversify TV Excellence Awards are part of the Change for Good programme at the 36th MIPCOM in Cannes (11-13 October 2021) which will explore the impact and influence the worldwide television industry can have across a wide range of global issues, from promoting diversity and inclusion, to minimising environmental impact and fostering responsible business practices. MIPCOM 2021 will also continue on its mission to drive gender equality through the 10th Annual Women in Global Entertainment Power Lunch, and to highlight best sustainable practice through the MIP Sustainable Development Goals Award.
SDG 11: Sustainable Cities and Communities
RX Italy's world-leading energy efficiency event, MCE, set up stall in downtown Milan for the first time in March 2018 to take its message to the general public. Fully endorsed by the Municipality of Milan, 'MCE in the City' was designed to raise public awareness about energy efficiency, helping consumers to reduce their energy consumption and cut their fuel bills. Located in Piazza Gae Aulenti, a landmark contemporary space in the heart of Milan, the venue took the form of two eye-catching igloo-shaped "domes" containing interactive installations and edutainment designed to engage adults and children in a playful but informative way.
The initiative was further developed in 2019 with three edutainment booths right in the heart of Milan and an electric bus stopping at several peripheral squares and schools to engage children in energy efficiency themes.
"MCE in the City' was an exciting initiative which allowed us to take our MCE brand to the general public who are the consumers of the products and solutions presented at our trade event" said Massimiliano Pierini, Managing Director, RX Italy. "The public loved it ‒ especially the youngsters who had fun trying the various installations – and we reached our goal of over 5,000 visits in 2018 and 7,000 in 2019. We are currently planning new initiatives for MCE 2022 and have just started on RX Italy's journey for ISO20121 certification, leveraging MCE's support for 12 out of the 17 SDGs."
SDG 12: Responsible consumption and production
Functional Fabric Fair – powered by Performance Days® is the premier sourcing event in the US dedicated to high performance functional fabrics, with spring and fall editions in New York and Portland, Oregon, and a year-round digital sourcing platform called The Loop.
Making and dying clothing has long been a source of environmental waste, and FFF is trying to reverse that trend by promoting sustainable practices. Each and every exhibitor is reviewed to ensure they fulfil global sustainability criteria, and ideally have Bluesign certification. This lays down requirements around safety, labour conditions and laws and, of course, manufacturing processes that minimize negative impact on the environment. 
The event team also practice what they preach. "All FFF events are 'turnkey', which means we supply almost everything for the exhibitor" explained Stephen McCullough, Exhibition Director. "To ensure responsible stand production we choose to work with FB International as our partner for these events. FB uses recycled fabric for the walls of each booth, recycles all materials, and even recycles the carpeting.  We do not allow the use of non-recycled materials, such as foam-core, for any signage or decoration.  We literally leave a zero carbon footprint."