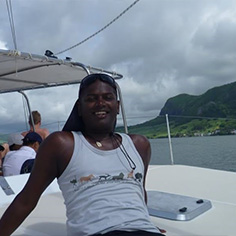 Q. What advice would you give to your teenage self?
A. You have to work hard to achieve your dreams and there are no shortcuts. Belief in yourself and the ability you possess. When you consume feedback, ensure you eek out the positive from it. Don't consume the negative in its bare form.
Q. What are you reading right now?
A. SAPIENS – A Brief history of humankind by Yuval Noah Harari. It is giving me a sense of perspective and also how briefly us humans have been on this great planet of ours, Earth!
Q. What recent podcast would you recommend?
BBC – The Next Episode. It follows the journey of Afrobeats from Africa to the UK and looks at how the music has contributed to the rise of Black African Pride.
Q. What does a perfect vacation look like for you?
Two weeks in Mauritius, diving and deep-sea fishing.
Q. What do you like most about your job?
A. My work in complex global programme delivery allows me to meet and build business relationships with colleagues around the world, which in turn helps to address any business needs they may have. As a member of Reed Exhibitions Global Race Committee, and Project Lead on our Supplier Diversity Programme, it also allows me to play a strong role encouraging diversity in the workplace and also in our business communities.
Q. What is the most memorable event you have ever attended, and why?
A. Fitness Australia. It made me realise how unfit I was! On a serious note, it made me realise how RX as leaders in the event industry, bring people face-to-face very successfully.
Q. What attracted you to work at RX?
A. It is far removed from the bureaucracy that you find in many organisations, and I saw how employees were enjoying the freedom to express themselves in the work that they do, to ensure the successful delivery of their events.