Celebrating the return of live cons
They had waited two years, but for the comic con fans and gamers who have been returning in their thousands to New York Comic Con, MCM, PAX West and other ReedPop events, the doors couldn't open soon enough. We report on the amazing cosplay, celebrity thrills, and ringing tills. 
Want to know if there's a comic con in town? Jump on the New York Subway or London Underground in October or November. You're just as likely to find yourself standing next to Super Woman, Wolverine or a Mandalorian en-route to NYCC or MCM London, as a commuter or tourist. Last year, public transport was deserted as the pandemic shut down business and comic-cons the world over.  ReedPop responded heroically with Cosplay Central, the global online community for cosplayers; Metaverse, the virtual home for all fandoms; and The Haul, a one-stop global e-shop for new merch, collectables and exclusives launched in early October. But fans and gamers remain hungry for the kind of in-person engagement and excitement only live events can deliver  – so much so, that when tickets went on sale for NYCC 2021 (October 7-10) the Saturday allocation sold out within a record 12 hours, albeit with a reduced overall capacity of 150,000. 
"At their most fundamental, our shows are about communities of fans coming together for a shared emotional experience via shared passions" said Lance Fensterman, President, ReedPop. "Our teams have worked hard through the pandemic to create connections for our fans and brands in new and virtual ways but by definition, event people like to be together.  This return to live events again has been as fulfilling, gratifying and needed for them as the fans they love to serve and delight."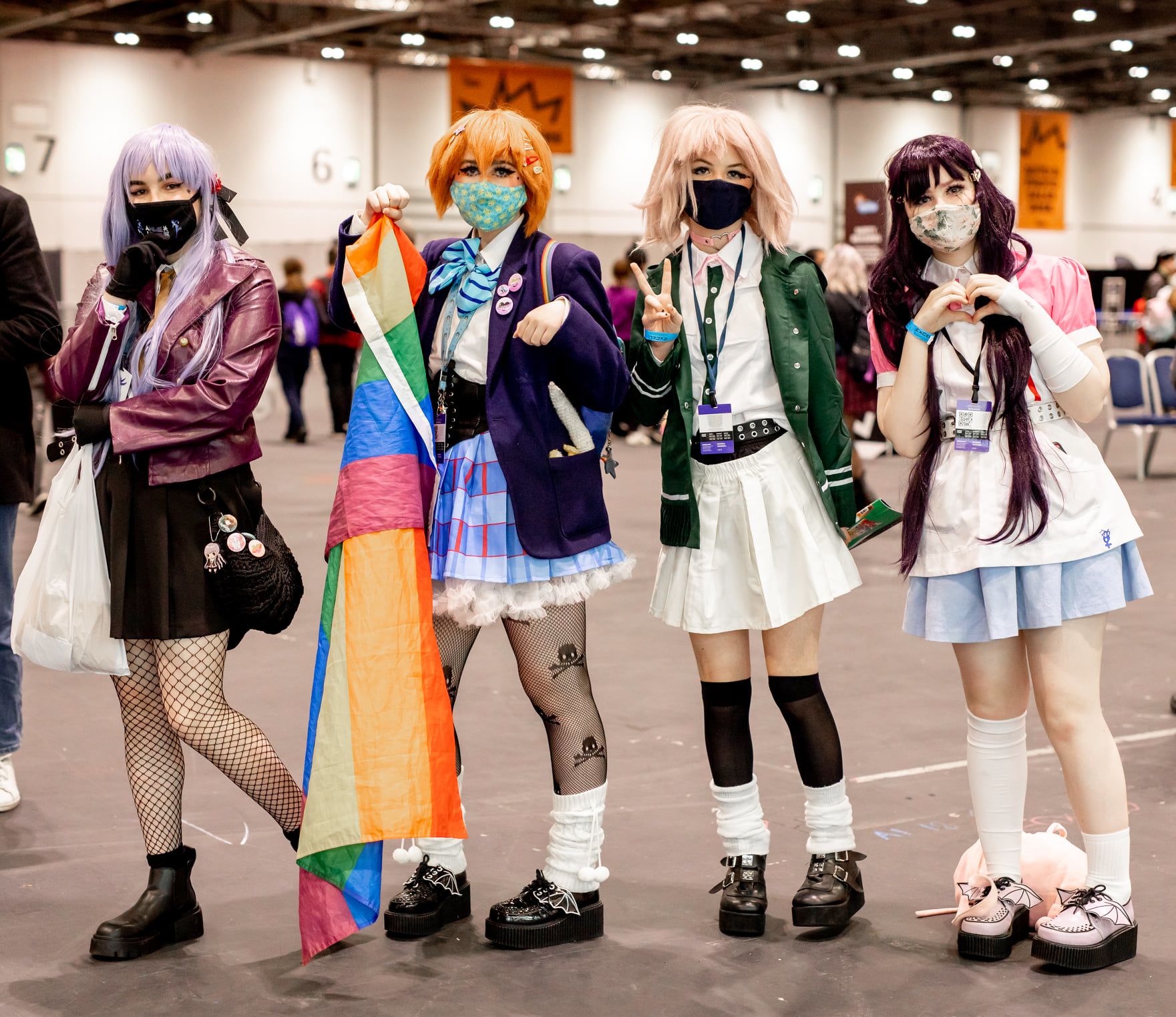 Safety first 
Lance explained that these first shows back have been about safely creating that connection and emotional happening again.  "The celebration of fandom in a shared environment can only happen in a safe space. In past years that has meant physical and psychological safety, and now we've added in health safety as the top priority" he said.  
With the exception of Florida Supercon (September 10-12), at which masks were mandated, all of ReedPop's events to return so far have also required proof of vaccination or a negative test to enter. There were wider paths between booths on the show floor, more distanced tables in artist alleys and gaming areas, plexiglass to protect celebrities and fans at autograph and photo stations, and enforcers on hand for reminders on mask etiquette and social distancing when necessary. Rather than put fans off, the measures were a deciding factor for many hesitant fans, and provided welcome reassurance for the crowds onsite. 
"When it was announced that the Seattle video game convention PAX West (September 3-6) would require vaccines, only about ten people asked for a refund" said Lance. "In fact, we had a nice spike in ticket sales. That tells us people want that layer of security and appreciate that layer of safety." 
Pink Gorilla co-owner and exhibitor Kelsey Lewin was "pleasantly surprised by mask compliance" at PAX West. "I think I saw two noses total all weekend," she told PC Gamer. And even though there was reduced attendance, Lewin said the retro games store booth was very busy and successful.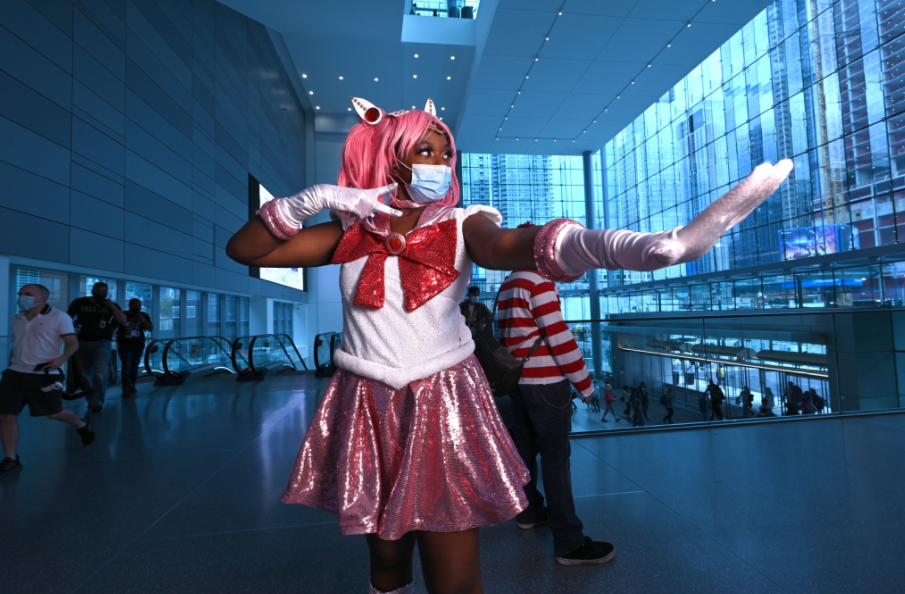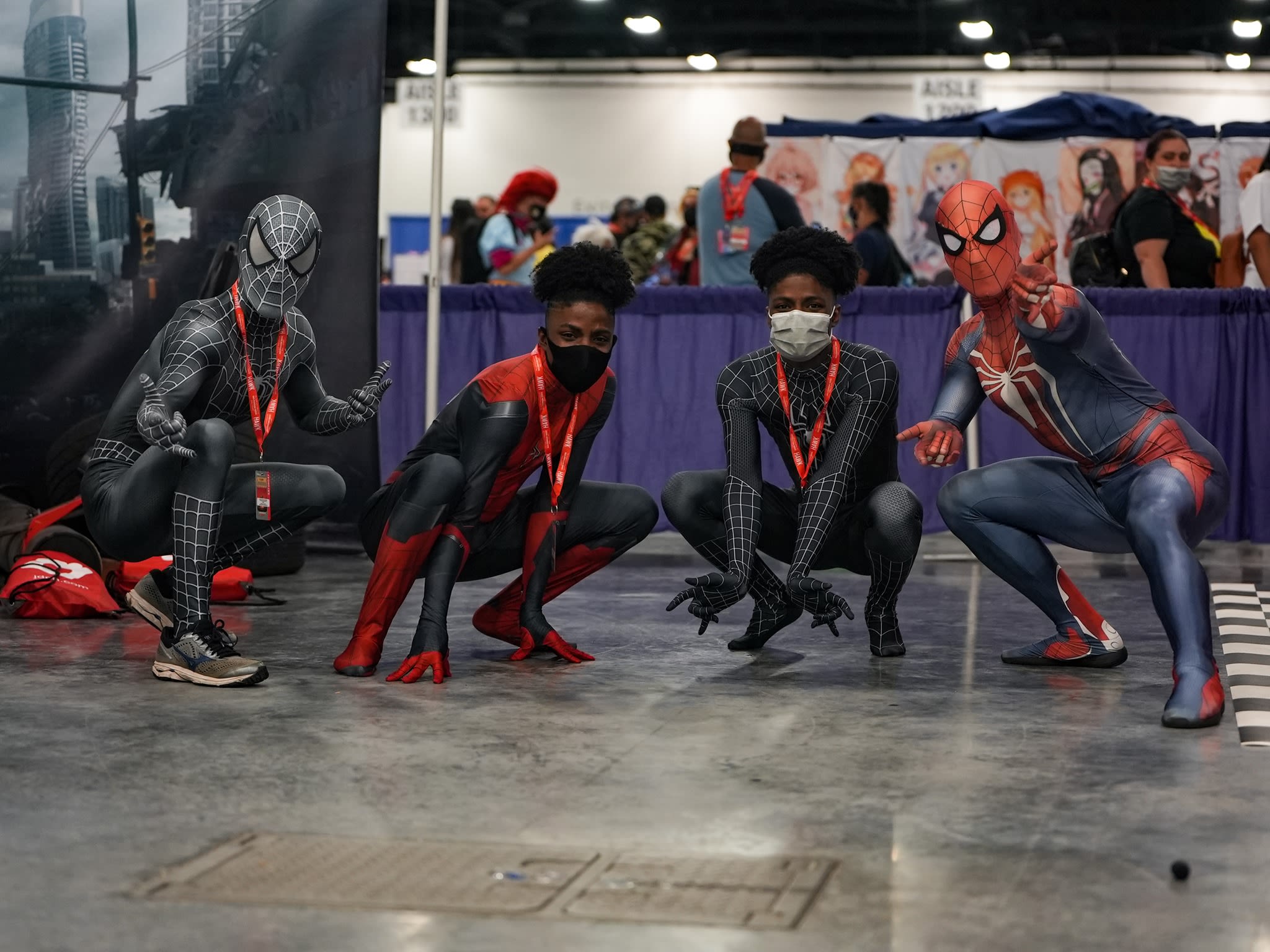 A celebration of Cosplay 
Costumes and cosplay is always a huge component of conventions and events and after two years of absence, fans were holding nothing back. For many cosplayers, NYCC and MCM are the thing that got them into cosplaying — seeing people dressed up as their favourite comic book characters, and marvelling at the creativity and craftsmanship on display. Many bloggers agreed that this year's return delivered some of the best showings of cosplay they had encountered at any event.  
NYCC 2021 was the second location for the US qualifiers for the Cosplay Central Crown Championships, one of the biggest cosplay competitions in the world. The winner was Kylander Kouture for her original design based on the hit television show  Outlander, created using quilting techniques and made completely by hand. Kylander will go onto compete in the US national competition at C2E2 (December 10-12) in Chicago, the winner of which will head to MCM London 2022 for the global final next October. 
Cosplayers of all levels got the opportunity to strut their stuff through the aisles, or on the catwalks at NYCC and MCM London and Birmingham ‒ with changing areas provided, and a dedicated team of volunteers on hand to provide assistance with emergency costume  repairs. And in the best NYCC tradition, love was in the air as two Star Wars cosplayers got engaged during a Star Wars Meetup. The marriage proposal from Luke Skywalker to Mara Jade went viral on TikTok. 
Gamers, too, love to dress up as their favourite characters from the video games they love, and at EGX (October 7-10) in London a massive cosplay stage ran across all four days of the event, featuring masquerades with fantastic prizes, and workshops offering advice to those looking to improve their cosplay skills.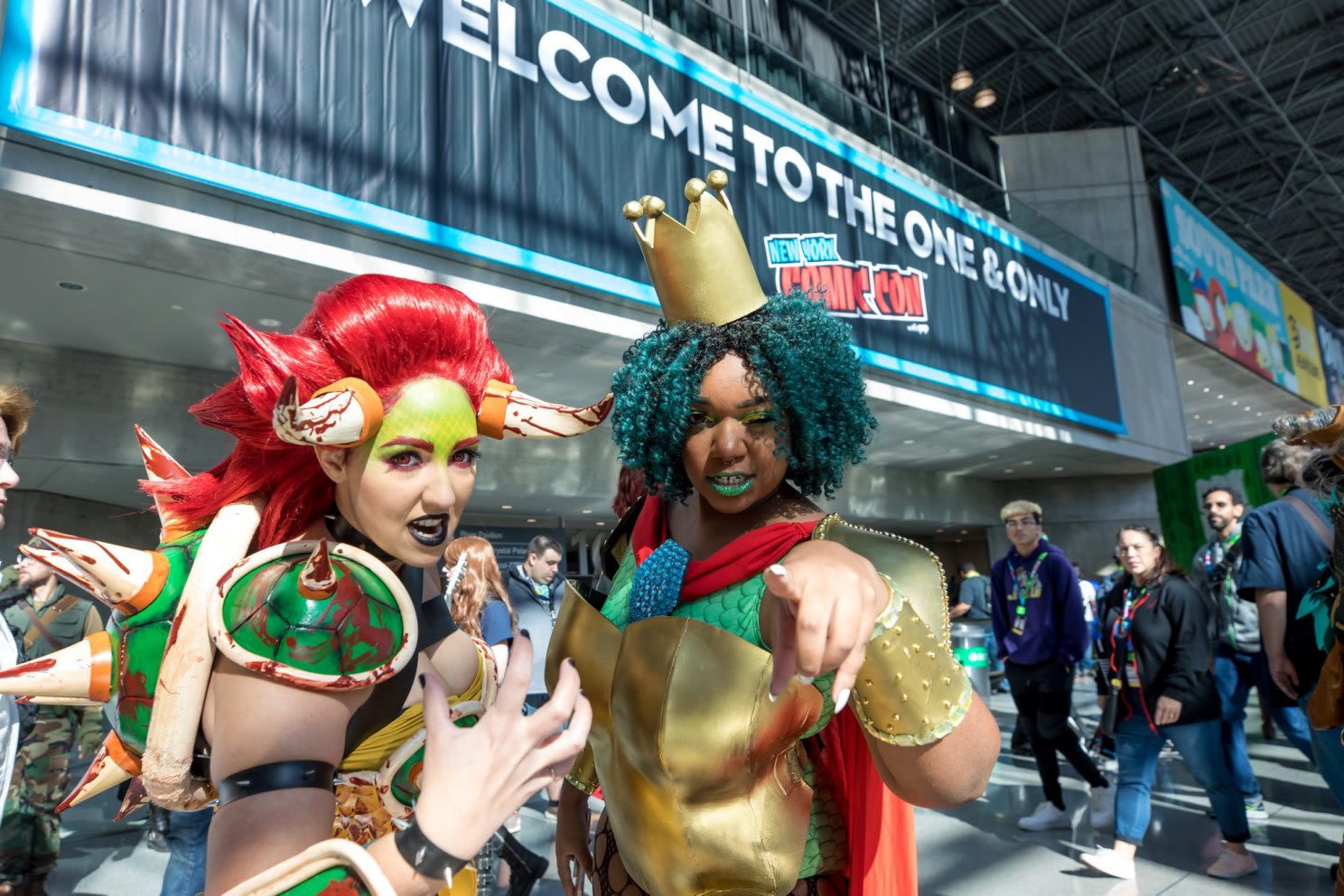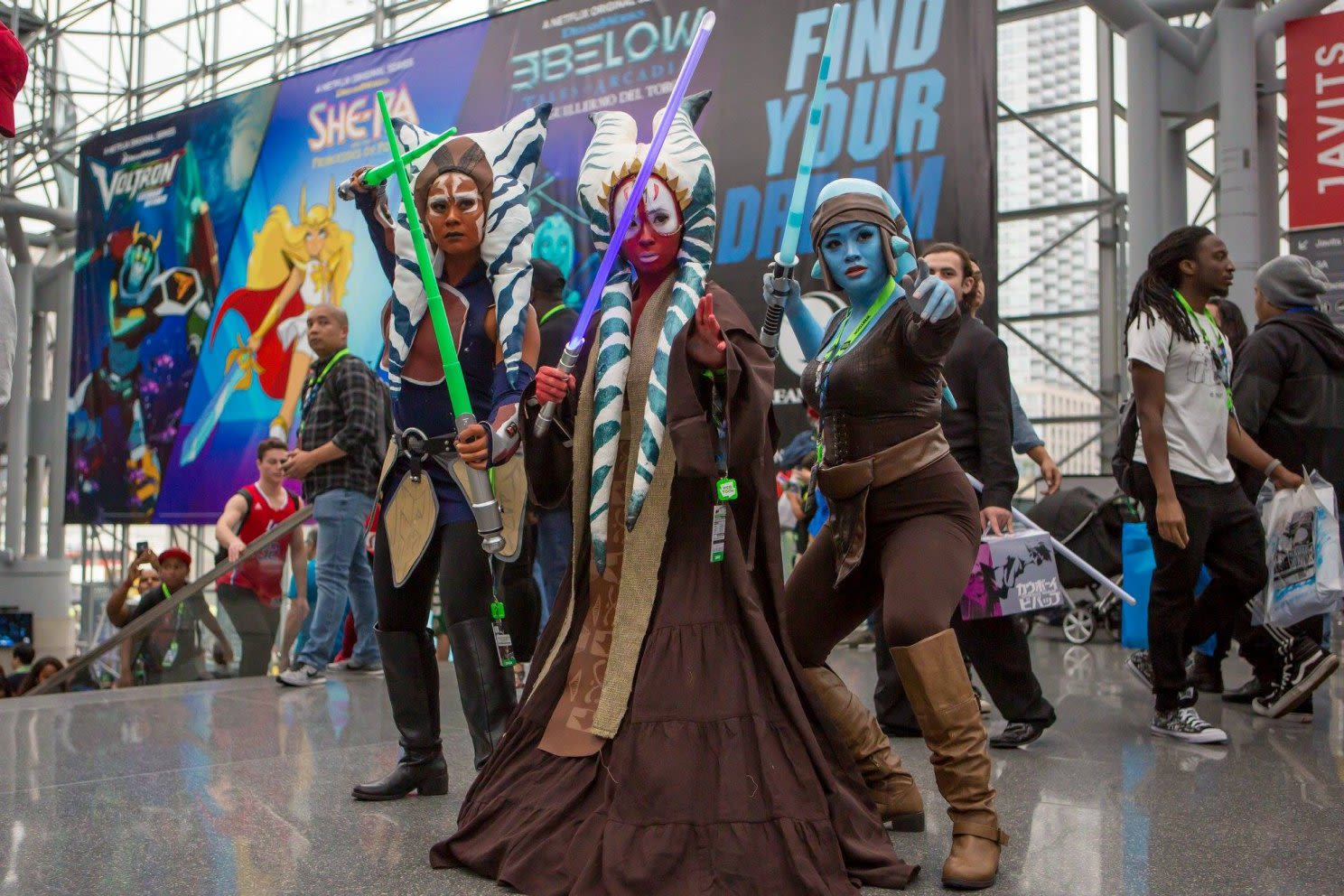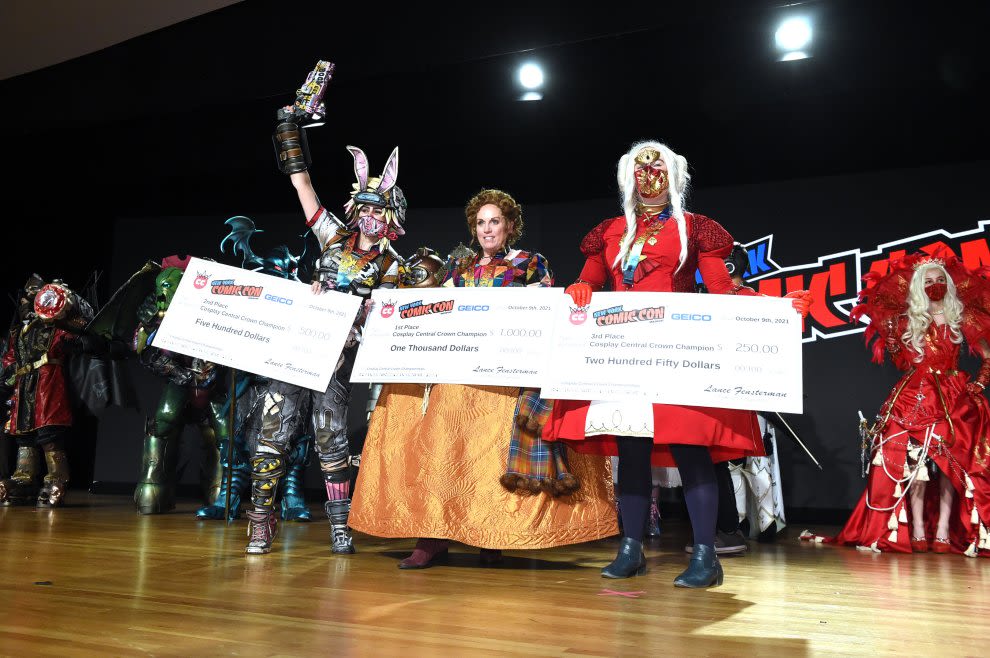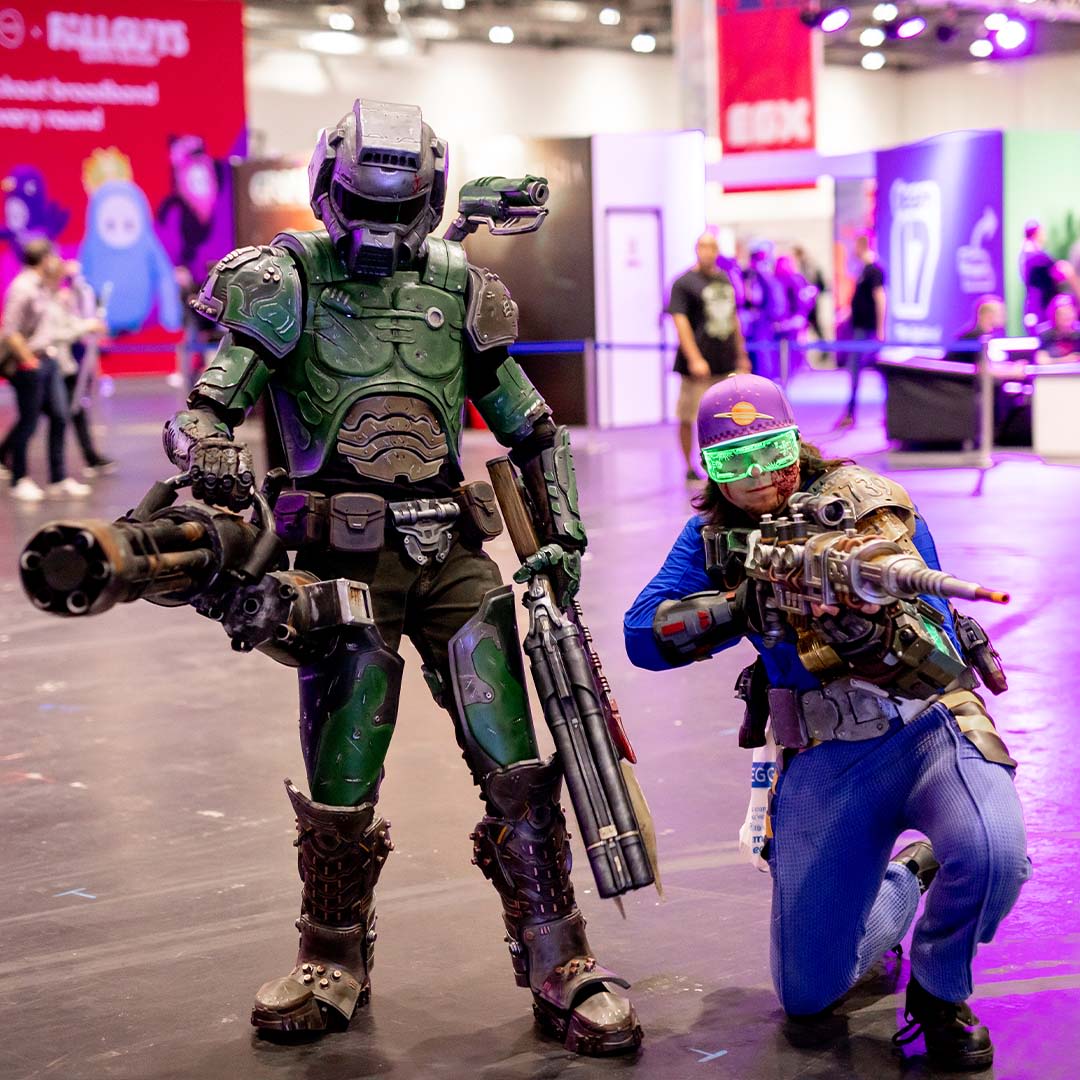 Celebrity and indies under the spotlight 
ReedPop's cons can always be counted on to attract a slew of celebrity guests, and this year they were as eager to return as their fans. Featured guests at NYCC 2021 included John Cena (WWE, The Suicide Squad, Peacemaker) David Harbour (Stranger Things, Black Widow), Hayden Christensen (Star Wars, Disney+ Obi-Wan Kenobi) and George Takei (Star Trek).  
Across the pond at MCM London, Tom Hiddleston, best known for Thor, the Avenger's and Marvel Studio's Loki, was among the guests available for autograph signing and photo opps. Loki cosplayers gathered at the Main Stage of the convention for a Loki meetup were surprised and amazed when they were greeted by none other than Marvel Studio's Loki star himself. "I heard there was a Loki meetup party and I didn't want to miss out," Tom told the excited crowd.  
Many big players such as Marvel, DC, Nintendo and Sony chose to sit out this year's cons, some concerned about personal team comfort levels, other impacted by corporate travel restrictions; but that made more room for the independent comics publishers and game developers who jumped at the chance to take over spotlight positions on the exhibition floor. 
Indie game developer Ross Przybylski was at PAX West showcasing 'Summoner's Fate' which was selected for this year's PAX10, a curated selection of indie games chosen by PAX for a unique exhibitor experience. The PAX team invests heavily in the PAX10, providing not only physical booth space, but prominent feature placement on their website and their Steam sale page.  
"This year, exceeded my wildest expectations, PAX went all out to provide what I like to describe as the "Rolls Royce" of indie booths" said Ross. "When the crowd started pouring into the expo hall Friday morning, all my worries melted away - this expo was very much still PAX. The energy and excitement from attendees quickly uplifted my spirits, and our booth rapidly filled to capacity. I honestly can't imagine a better showcase scenario for an indie developer." 
Steve Rotterdam, Aftershock Comics senior VP Sales & Marketing, told Publisher's Weekly that his house had its "best day of sales, ever," on Thursday when NYCC opened. Steve said, "we decided to go for it. It's a shame the other publishers aren't here but this has been good for us." 
"It's been a long 18 months for creatives who rely on conventions for income, and the circumstances of this year's show made it possible for smaller companies and emerging artists to get a lot of exposure to fans," said Kristina Rogers, Event Director.  
At NYCC, Artists Alley was expanded across two halls to adhere to protocols and attracted substantial traffic the entire weekend. "We were at about 450 tables, which is about the same as prior years. Next year if we don't have to distance the tables for health and safety, we'll be adding more" she revealed. 
Kristina emphasized that vendors and partners who skipped NYCC 2021 would not lose their place next year, as the Javits Center expansion allows for much more exhibit space. "All our conversations with bigger brands and publishers have been really positive regarding coming back in 2022."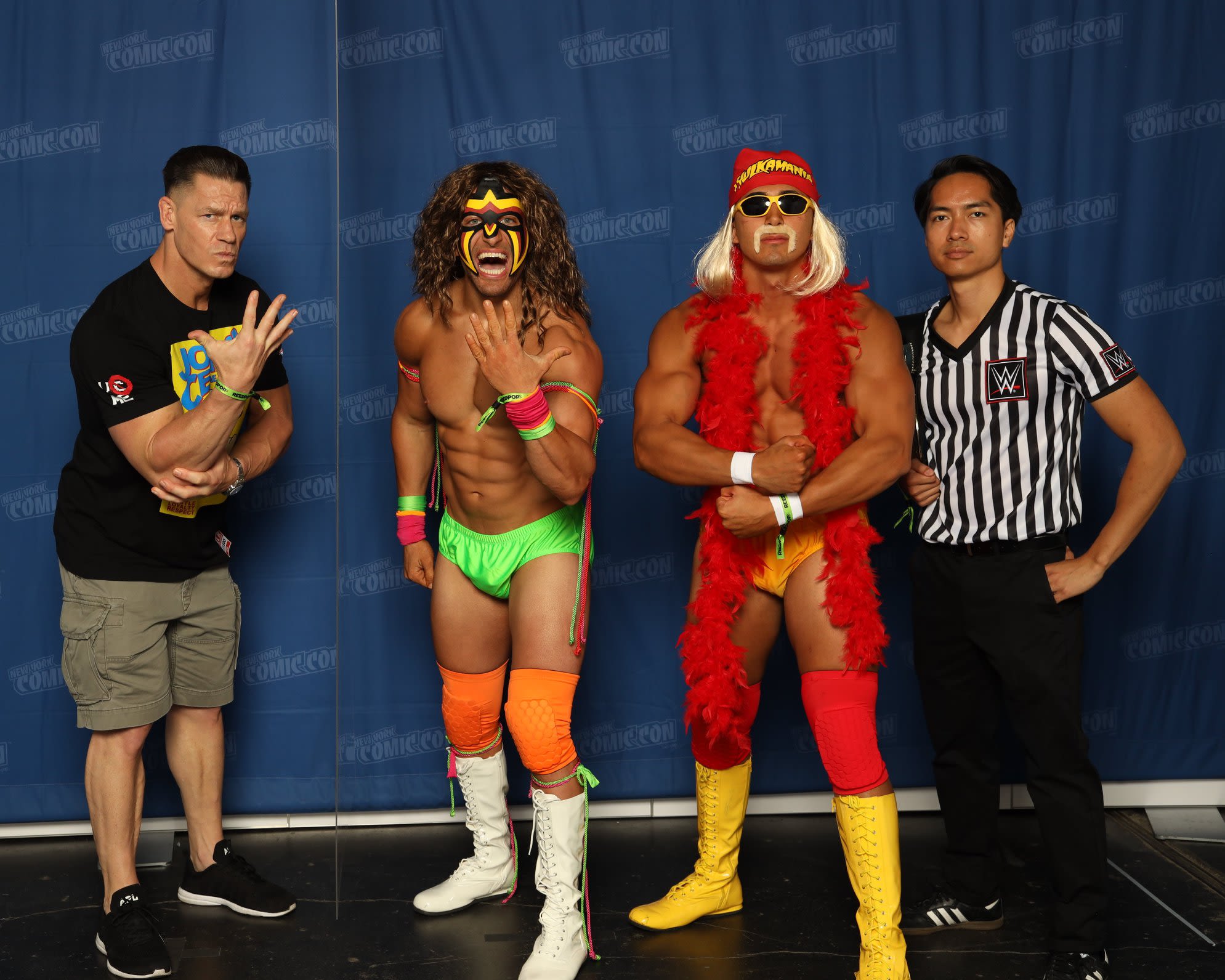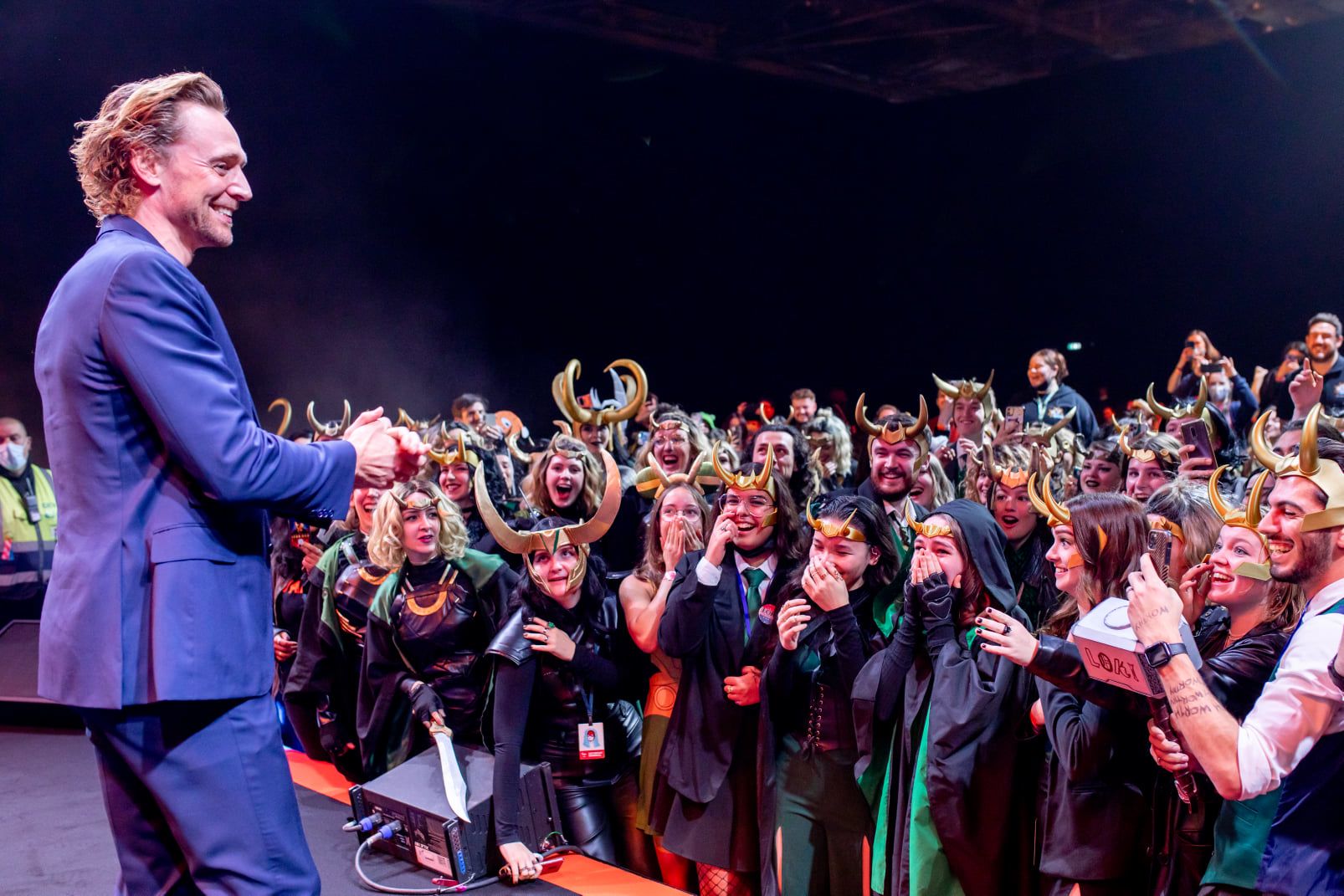 A joyful experience 
Returning to live cons after a two year hiatus was an emotional experience for ReedPop's fan communities.  "A few folks told me they teared up when they walked in to the Javits Center" said Heidi MacDonald in her NYCC report for The Beat. "There is so much about comics that is about community, about seeing our tribes unite and interact. Seeing cosplayers in all their glory. Riffling through back issue bins. Discovering a new comic to read. Connecting with a favourite creator. Laughing at a panel. Eating a hot dog…  My Twitter and Instagram feeds are filled with just photos of people together, smiling, happy." 
All of which is music to Lance's ears.  "We always try and make the community our primary focus, and this year that is the case more than ever. There is a huge element of these first shows back that is simply about being back together, and sharing the experience. That means more organized meet ups for fans, more space and features for the cosplay community, table top gaming, family-focused amenities and interactive content. At the end of each show we ask ourselves two questions. "Was it safe, and did people have fun?" Everything after that is a bonus."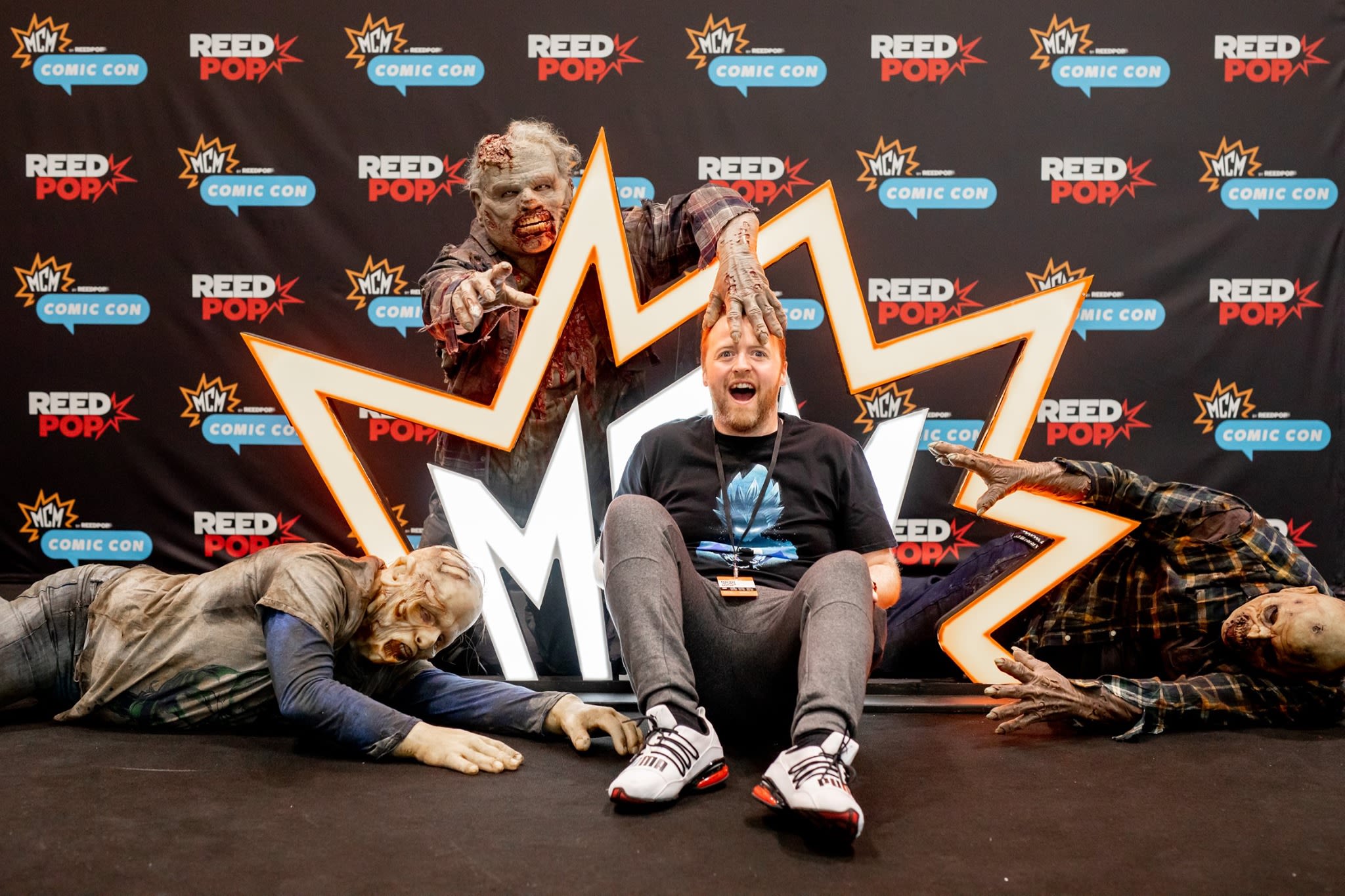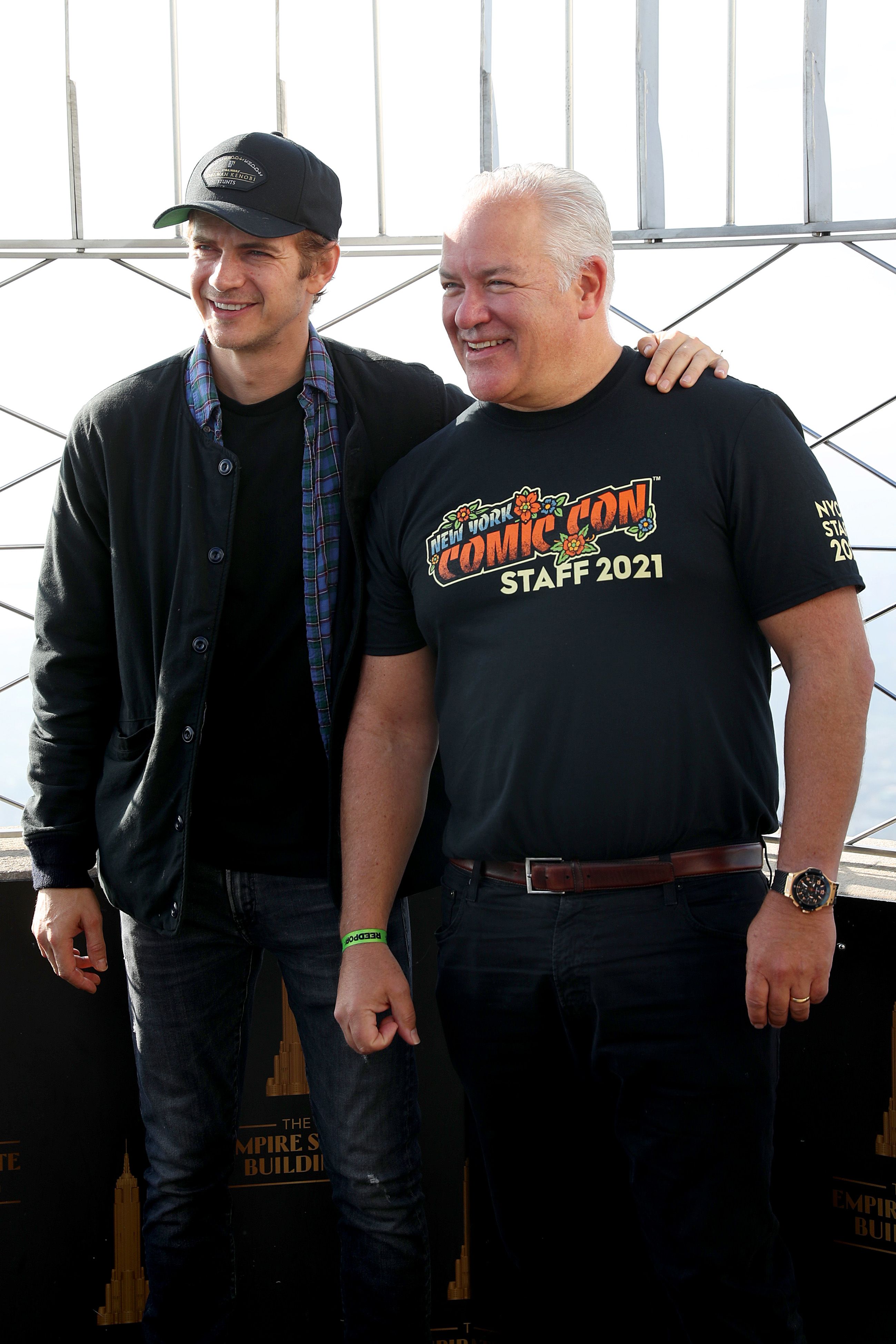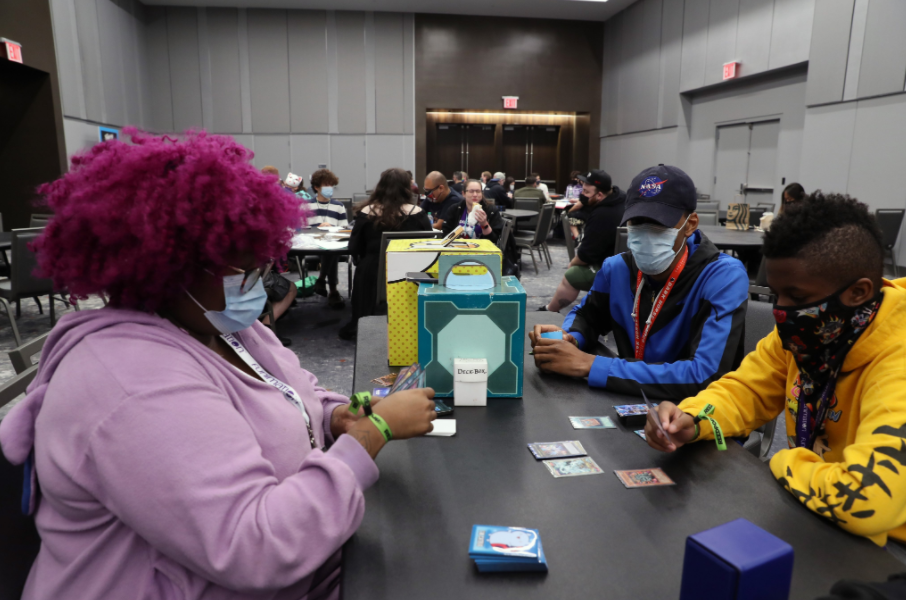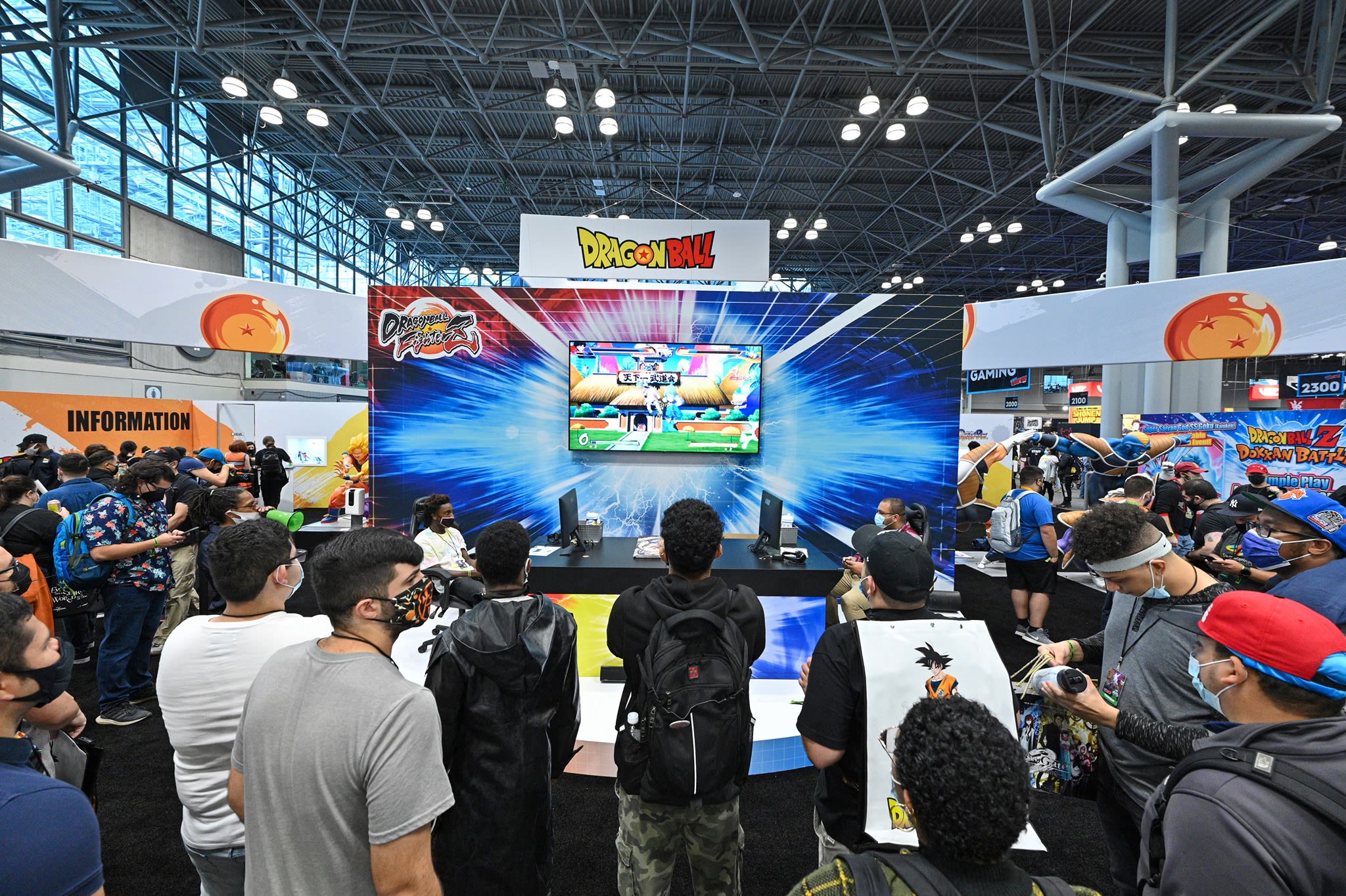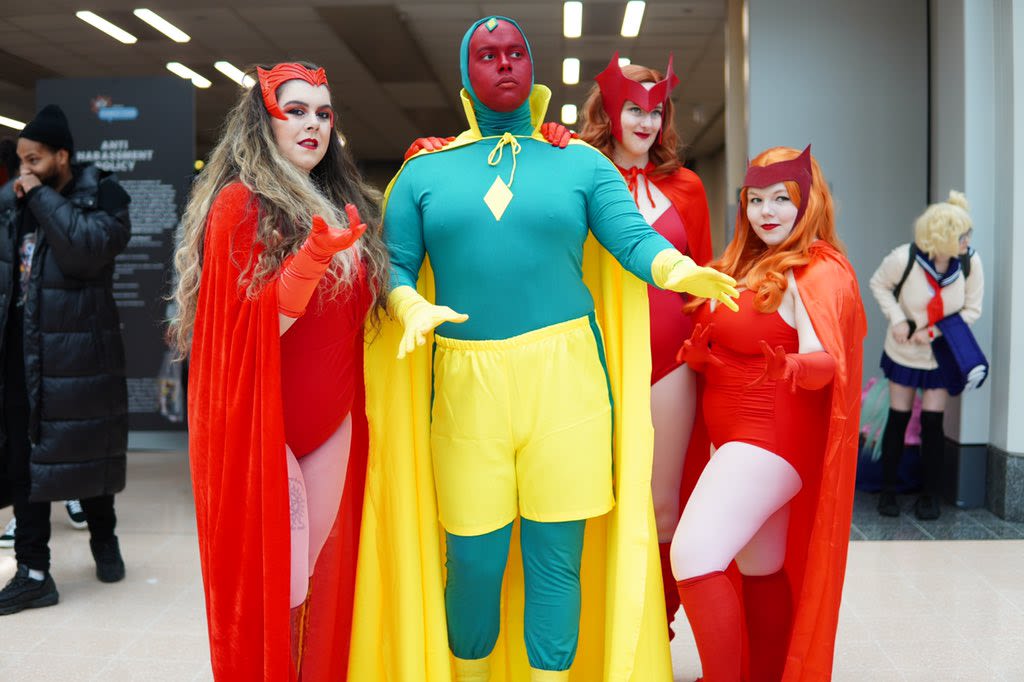 Item 1 of 4