'A Better Chance in Darien' is one of nine recipients of Reed Exhibitions' 2020 $1 million donation to selected not-for-profit partners around the world who are committed to promoting racial equity. We talk to Chadaé about the educational scholarship program, her own very personal connection with it, and how her subsequent employment at Reed Exhibitions led the company to support ABC in Darien's vital mission.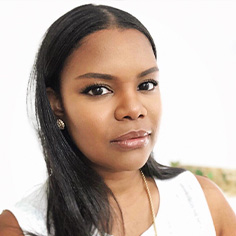 Q. Can you explain the work of A Better Chance in Darien and why it is so important to you?
A. A Better Chance is a national programme that provides scholarships to academically talented and motivated students of color from underserved areas. Our local programme in Darien was set up in 1981 and we celebrate our 40th anniversary this year! We support eight young female scholars from 9th through 12th grades every year, enabling them to realise their academic and social potential while living in Darien and attending the High School. All of our girls have gone on to competitive colleges, and I was fortunate enough to be one of them.
I graduated from New York City's Fashion Institute of Technology in 2009 and joined Reed Exhibitions (RX) in 2012 as a Marketing Associate, working my way up to my current role as Director of Marketing and Industry Development. I joined the board of ABC in Darien last year because I wanted to give back by advocating for current scholars and building a network of alumnae. When RX announced the launch of its new global charity fund in support of racial equality, I raised my hand and suggested the programme be submitted for RX funding. It met their criteria perfectly while at the same time being very personal for me.
Q. How do you go about finding students for your program?
A. We reach out to junior high or middle schools in underserved urban areas in New York, New Jersey and Connecticut. Over the years we have developed relationships with teacher advocates who advise students of academic potential on their next school move. My own experience is typical. I come from Brooklyn, New York, and my parents always instilled in me the importance of a good education. I knew I wanted to go to college but had no idea how we could afford it, and couldn't imagine what it would be like to attend a high school away from home. When I was made aware that I could apply for a scholarship, I jumped at the opportunity. I applied to a number of different programmes but ABC in Darien stood out for me due to the proximity to my family in Brooklyn and the supportive, family unit the ABC in Darien community provided and the opportunity to attend one of the nation's top public schools.
Q. Tell us about the life of a typical ABC in Darien student.
A. Our students live together in a house in Darien, supervised by our Resident Directors – typically a couple from the school or a retired older couple who have raised their own family, and understand the importance of creating a supportive home away from home. The 'family' all sit down to dinner together every night, and we all share housekeeping responsibilities. During the week they attend Darien High School and are required to be involved in extracurricular activities at least three days a week – be it sport, theatre, dance, orchestra, student government or volunteering.
Two weekends a month the students spend time with their 'host family' in the Darien community. As freshmen they are paired with a host family for their entire four years on the program and it's lovely to see the close relationships that are forged. The connection between the students and the wider Darien community is an important component in the A Better Chance experience, and our host families are a critical link in the chain.
Q. Your programme has a wonderful track record with scholars. Can you share some of their stories?
A. I recently had dinner with our current scholars and was bowled over by how smart, committed, hardworking and independent they are. 100% of our graduates go on to four year colleges and this year is no exception. One of our seniors has a track scholarship to study architecture at Lehigh and the other has a full scholarship to UPenn to study pharmaceuticals.
Fifty-four students have graduated from the programme in Darien since it was launched. They have gone on to become doctors, lawyers, educators, scientists, administrators and so much more, making a huge contribution to society. My role on the ABC in Darien Board is to reach out to these alumni and encourage them to share their inspiring stories with our current students, and to continue to give back in other ways, such as through internships.
Q. What does the local community in Darien gain from the program?
A. In the beginning, the program was focused on the opportunities we were giving to our students, and what we've realised over the years is how much our students give to the community. Because when you have an ABC scholar in a classroom, it changes the conversation. Many of the students at Darien High School have never interacted with minority students before. Our students are helping to change the way they think about people of different ethnic cultures which is particularly significant at the moment, given the events of the past year. Will there ever be a time when we don't need this kind of program? We hope so, but don't see it in the near future.
Q. How will you be spending the money donated by Reed Exhibitions?
A. ABC in Darien is 100% funded by donations so Reed Exhibitions' contribution is incredibly welcome. Some of the money has already been allocated to support our two sophomores who successfully applied to this year's Yale Global Scholars Program. The Yale program is in place of the international study program abroad which we usually help fund, but was not possible this year due to Covid-19. Traditionally, we also give each graduating senior a laptop when they go off to college, so the donation will fund those too.
Q. In what other ways is Reed Exhibitions supporting your work?
A. We are working with RX to develop career mentorship opportunities for current students, and internships for program graduates. Experiencing a professional working environment is incredibly exciting and eye-opening for our students. Hopefully we can create a pipeline to future employment opportunities.